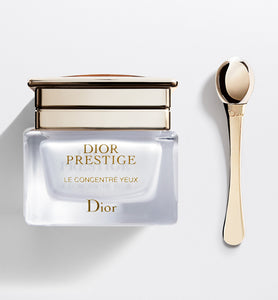 Le Concentre Yeux potentiate the eye contour area regeneration thanks to a unique synergy between skincare and massage.
With the eyes closed, its divinely fresh and enveloping texture rolls out across the whole panoramic eye area for a more complete regeneration. Its action is boosted by the Open EyeTM applicator. This technological wonder reproduces the expert techniques of the Dior Institut thanks to its double-rotating pearls.
Instantly, the eye contour area is smoothed, marks of fatigue disappear. Day after day, the eyes open up, magnified by greater lashes. Full of femininity, they illuminate the face with newfound beauty.
Dior Prestige La Cream is refillable: a sustainable approach for lasting beauty. A unique synergy between Le Concentre Yeux and the Open-EyeTM applicator for the first time clinically proven by an independent dermatologist*:
Exceptional results....
REGENERATION
Firmness of the under eye + 14%
Lifted aspect of the eyelids + 23%
Dark-circle aspect -17%
Eye puffiness aspect -26%
PERFECTION
Opening of the eyes + 18%
Luminosity of the eye-contour + 21%
... Up to the lashes
Density of the lashes fringe +14%
Suppleness of the eye lashes + 28%
*clinical measure on 30 women after one month application evaluated by and independent dermatologist. THE ROSE DE GRANVILLE, AN EXTRAORDINARY POWER OF REGENERATION AND PERFECTION
The story of this Rose begins on the cliffs of Granville, not far from the house of Christian Dior in Normandy. Here, Dior researchers discovered a wild rose capable of withstanding the harsh seaside climate while maintaining its exquisite beauty.
Through 7 marriages, a brilliant horticulturist tamed its wild nature and enhanced its regenerative potential. He gave rise to the Rose de Granville, the first rose specifically created for skincare.
Culmination of 15 years of research, Dior Science isolates for the first time ever the secret of its unprecendented life force: a unique combination of 8 molecules. A cutting-edge extraction process called dynamic enfleurage concentrates this molecular power into Dior Prestige skincare.
THE E-BOUTIQUE SERVICES
COMPLIMENTARY SHIPPING

Enjoy complimentary Standard shipping

ART OF GIFTING

Your gift orders will be presented in an iconic Dior gift box