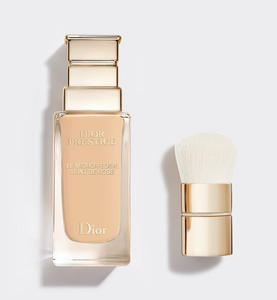 Dior Prestige has created its 1st micro-nutritive fluid skincare foundation SPF 25 - PA+++ enriched with rose extracts and gold-infused micro-pearls for a vibrant, luminous complexion and skin that glows with vitality and appears younger.
Inspired by nutritional supplements, Le Micro-Fluide Teint de Rose captures all the micro-nutritive richness of the Rose de Granville. Over 20 micro-nutrients (minerals, omega-3, vitamin E, trace elements, etc.) help counteract the effects of skin's nutritional deficiencies that cause dryness.
* Hydration measurements after 6 hours through an instrumental test of the foundation + La Micro-Huile de Rose combined vs. the foundation alone on 10 women. Instantly, the foundation's revitalizing, moisturizing action rebalances and nourishes skin. Beneath your fingertips, skin regains youthful perfection worthy of a rose petal itself, with fine, smooth skin texture and more harmonious contours. Day after day, the skin regains vitality and radiance.
Exceptional skin results:
• The complexion is more luminous for 100%* of women.
• The skin's texture is refined for 100%* of women.
• The skin appears more hydrated for 98%* of women.
• The skin regains a natural rosy glow for 98%* of women.
* Consumer test on 60 Chinese women.
The texture of Le Micro-Fluide
Teint de Rose is soft and lush upon application, fusing with the skin.
Evenly dispersed in a polymer mesh, the micro-pearls release their corrective and illuminating powers in an ultra-fine veil that's imperceptible to the naked eye. The shades of this foundation have been specifically designed to enhance the luminosity of Asian skin. The range consists of four neutral shades in varying intensities, as well as two warm shades and one cool shade.
THE E-BOUTIQUE SERVICES
COMPLIMENTARY SHIPPING

Enjoy complimentary Standard shipping

ART OF GIFTING

Your gift orders will be presented in an iconic Dior gift box