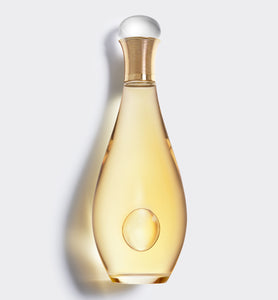 Dry oil for the hair, body and nails, J'adore Huile Divine is an invitation to instant pleasure.
Sensorial and airy, its exquisite formula penetrates quickly and generously moisturizes the skin, leaving it soft as silk. Luminous, it enhances and gently soothes tanned skin. Designed as a spray for generous application, it accentuates the notes of the floral bouquet with a "salt" note that warms the skin like a ray of sunshine. 
"J'adore is an extraordinary fragrance because it achieves the feat of being an original signature that easily appeals. Sensual without being too heavy. It is a composition that brings opposites together, that makes iconic floral notes into an alluring, unique and mysterious ensemble. J'adore invents a flower that doesn't exist." François Demachy, Dior Perfumer-Creator.
Ylang-ylang from Madagascar and the Comoros, with fruity and exotic notes. Damascus Rose from Turkey, lively and smooth.
Indian Jasmine Sambac, with warm facets of Orange blossom. Inspired by the J'adore amphora, Huile Divine is adorned with a loose, flowing necklace like jewelry dancing around a woman's neck.
THE E-BOUTIQUE SERVICES
COMPLIMENTARY SHIPPING

Enjoy complimentary Standard shipping

ART OF GIFTING

Your gift orders will be presented in an iconic Dior gift box